Willard and Myrtie Paine founded Paine's Garage from an old horse barn in 1935. They bought an old farm on Brewer Road with an old barn and a new 2-story house with the top story missing.
Willard had worked at various garages, including the AH Ford Garage on Fall Street in Seneca Falls. In the early 30's he had his own shop on the canal behind the Eshenhour Chrysler/Plymouth dealership on Main Street in Waterloo. One day it caught fire, and the fire department's hoses knocked his tools into the canal. He then rented the Lake Street Garage in Geneva, and worked there during the day to provide monies to live, finish his home, and build his own business. His wages then were around $5.00 per week. He and Myrtie, who was pregnant with Donald, shoveled wagons full of old manure from the floor, and then shoveled in concrete to replace the dirt.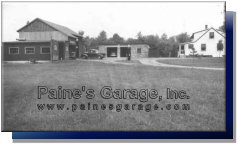 The shop from the south end taken around
1949 - 1950
Most of the garage was built out of used materials and fixtures that were scavenged from the local dump. He even used an old chicken coop to add on an enclosure for his machine shop.
He began by repairing autos, trucks, and farm equipment. Along with being a good machinist, he also was a very skilled weldor, and turned a lot of old junk into good working equipment. During WWII, he kept the local vehicles and farm equipment rolling and working. The front bolster on Farmall tractors frequently broke, and Willard made a repair that alleviated the problem, a good thing since industry was producing war machines, not parts.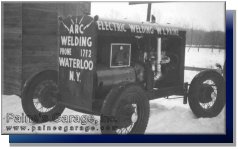 The welder is one Willard built to tow around for working on farm equipment, and also to thaw frozen pipes in the winter. Photo taken late winter 1940
He worked briefly for the gravel pits on Rte 96, and built an entire boom for an excavator from scratch. He bought a broken Caterpillar Thirty bulldozer, repaired it, and carved the rolling landscape into an airstrip. From here he flew his Aeronca Chief for many years.
Donald worked around the shop, and on area farms while growing up, and was also bitten by the mechanics bug. After school, he worked at Sylvania 1 month, but didn't like the monotony of factory work. He worked in Shortsville for McGurk Chrysler Plymouth as a mechanic. He went to work at the Willard Hospital in Oct 53, for 1 year, then enlisted in the army, and wound up working on tanks.
After the service Donald went back to Willard Hospital. He then married Nancy, and they moved to Rochester where he worked for Seibert Chevrolet. He slowly worked his way back to Brewer Road, where with the help of his dad, he built a home near the garage.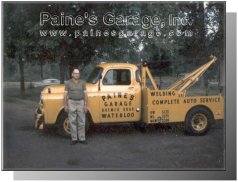 The 55 dodge tow truck that Willard built. The photograph was taken in the early 1960's
It was at this time in the early sixties that Don and his dad started the Paine racing legacy. With an old '49 Chevy and a lot of ingenuity, they built the #7 late model that was a dominant force at the area dirt tracks in the hands of local driver Rollie Velte. They towed the car to the track with another of Willard's homebuilts, a 1955 Dodge 100 tow truck.
After Willard's health problems, Donald took over the garage in 1969. He continued repairing cars, and in 1973, he obtained the Sno-Jet snowmobile dealership from Duane Marx. This was the first step in the direction of retailing and outdoor power equipment. In 1974, Ronald McGreevy was hired right out of high school to help with the growing business. Ron is still turning out excellent work 29 years later.
In 1976, the Gravely franchise became available from LeBrun Motors, and a deal was quickly made. From there the garage acquired Poulan, Bolens, and Polaris. A second mechanic, Dan Snook, was added at this time also. Polaris and Bolens were quickly weeded out, and Simplicity was chosen as a replacement in 1979. Stephen Paine, Don's oldest son, started working in the auto repair shop, and started racing at the local DIRT tracks.
The 80's saw a growth to 3 mechanics with Bob Paine, Don's son, working in the lawn & garden shop. Racing became a bigger part of Steve's career.
The 90's saw the passing of Willard and Myrtie Paine, and the semi-retirement of Donald. The auto repair business became the racing business, and was split off under Steve as Paine Motorsports in 1992. At the same time Bob took over the garage part of the business, which was now fully an outdoor power equipment shop. As Paine's Garage, Inc entered the new millennium we have stayed with a core of quality lines: Husqvarna, Stihl, Toro.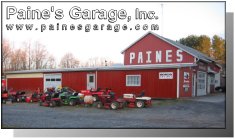 Paine's Garage, Inc. as it stands today
Our values today are still the same as they were in 1935; integrity, quality, and customer service.